I love this scene so much...some fans called it invisible piano...but it reminds me the habit of young greatest Cpop composer, Jay Chou ...he has ability as conductor or do invisible piano or gucheng/Chinese Zither [reminds me of Deadful Melody film played by Brigitte Lin Ching Hsia...so cool!]

六指琴魔 Deadful Melody (1994) Trailer

http://www.youtube.com/watch?gl=ID&hl=id&v=uP2OOQ7xWDc

in this scene looks like Jaejoong as a conductor or playing invisible piano make sense too.....but his move is so lovely softly.... because he is a good composer too...Jaejoong identical with music, he is genius musician from South Korea

http://www.youtube.com/watch?v=-ye_PX2qntc

Mine mv is like a masterpiece of artwork if you got high sense of art...it is a rock genre ..Jpop to be exactly. Although it is in Korean but Jaejoong sang it so Jrock, very legit. It tells us what Kim Jaejoong wanna scream for so long ...how he deals with the evil surround and follow him everywhere he goes and try to block every chance he got to emerge and survive....The lyric itself and the symbols are so clear.

But what is impressed me so much is that this kind of rock even there is gothic but so Kim Jaejoong's Rock version: so beautiful like an angel, sophisticated, elegant, n glam.....far away from common image of rock such as street boy, bump, skinhead or spike style.

It is so

AVANT GARDE .....means so Kim Jaejoong..

....

so glam but so rock

The gothic, smokey eyes, horn hat, harness outfit for battle against evil, black nailpolish, symbolic rings and other metal accessories ...lovely n scary accessories...There is also knitting outfit which looked lovely and beautiful in Jaejoong glowing skin and broader shoulder contrast with his super slim waist and simple but eye catching ear rings.....also diamond mask.....I love the cool make over as Vamp with scary vang the beautiful angel Jaejoong turn into scary vamp ....The beautiful leather outfits and boots....the scene of his long legs run throuh the flying crows... The hair color changes ...the chain and metals cover his mouth ....and ...the tattoo.

How I could describe it in words....Jaejoong like yin yang. so delicate and beautiful but also so tough

In the first scene when he was in the wood he looked so innocent so delicate n lovely angel while the beast surround him hounting....but in the end he managed to take over the stage.....and transformed into the new tough vamp. The outfits and accesessories also the decoration and many meaningfull symbols complete it.. So beautiful but so scary and the message is so piercing deep down your heart.

I impressed with the choosing words in liryc...:




".......

. you like a person who has strong sickness

you congested spit mixed with blood

is already familiar with me

don't come here this is my ocean

don't try to cover even the sun that shines on me

I'm scared that even this place might be contaminated

......"




I love this piece of artwork,...perfect choice of fashion, make up, music n song, setting n decor, movie director and editor were genius! It's realy a master piece of mv I've ever seen!

Some haters , must be busy to bash and make bad review about this Mv connected with satan or illuminaty.......

Actually this mv itself indeed tells the fight against satan/beast/monster/evil ... yes, right, if you haven't know yet what Kpop is...well, sorry guys,.. there are haters, fanwar and bashing idols and fans in KPOP.

Kpop is always seek sensasional to draw attention of the world so that we know South Korea n buy Korean's product....Kpop is a tool for promoting

South Korean's

product. But it looked as if Kim Jaejoong of JYJ is the no1 Kpop enemy since he is the leader of the defender who bravely struggle against the discrimination and violation of human rights of Kpop artists. That's why JYJ n Kim Jaejoong has been treated very unfair in his own country. No wonder his fans prefer call JYJpop than Kpop because JYJ treated worst unlike other Kpop artists. Even though the court has been stated that JYJ is free and can be perform on tv since 3 years ago but untill now no tv will dare to give a chance to JYJ and old management always use many kind of dirty trick to block him, although this management had made a statement himself to

do not interfere with each other

in the future

....

Here the journey and battle of JYJ to seek justice in their on country and what kind of Kpop that you won't understand, it's so cruel and inhumane.....;

http://www.youtube.com/watch?v=nv3rCSXYafQ

It is so funny, how could JYJ has a power to interfere the giant company? ...may be he means Jaejoong is too talented n genius is such a scary n threatening for all his artists.. many fans complain like this....I don't get it why there is such a thing [ discrimination,

violation of

human right and slavery contract] happen to South Korean artist when the UN Chief is Korean [Ban Ki Mun]?




Usually a top artist whoever wants to end his slavery contract [just to seek freedom since he is very talented artist in Kpop] especially artist from major/giant label.... will be blocked untill they can't have career as an artist anymore....no company will dare to help him, make him hard to survive. We know that 3 years Jaejoong and JYJ won't allow to perform on tv anymore untill when, only god knows....that is the price he got when very Top Kpop artis try to get freedom to create good artwork and wanna live n be treated like human being. Come on, we all know how many Kpop idols live like a hell....too famous but no money and has no decent rest and treated like slave...

pics Were not mine...credit to the owner
As we've
previously reported
,
JYJ
's enigmatic vocalists
Kim Jaejoong
was set to release his first official solo album this month. The albums proposed concepts, a blend of Korean rock and pop with a splattering of Jrock elements, was promised to be something like we've never seen before. Earlier this month, fans got a glimpse into the albums direction when Kim Jaejoong released the audio for the song
One Kiss
-an uptempo rock ballad, which quickly caught the attention of fans worldwide.
Today, via JYJ's official YouTube channel, Kim Jaejoong released his MV for the album's title track MINE. The song, with heavy influences of Korean Rock meets Goth, has the fans of the artist clamoring for the album. Jaejoong's vocals through out the song range from the crisp and clear angelic-like quality fans have come to adore to rough and not-so-angelic that show the emotion behind the song itself. Check it out below!
The MV is riddled with symbolism. Fans have commented that you can see the life-history of Jaejoong's and JYJ struggles personified with every scene of this MV and this sentiment is being vocalized by the majority of their fan base. What do you think? Can you see the symbolism portrayed in the video? What are your thoughts?
Sources:
Video :
CJeSJYJ
Photo: Screencap by Author.
from Hellokpop
JYJ
's
Kim Jaejoong
has started 2013 off nicely with the release of his first solo mini-album
I
. The album jacket photos as well as the MV for the title track "Mine" have an artsy, gothic feel that was immediately reminiscent of the Korean fashion label
Dominic's Way
. The brand's clothing is often times dark, with leather goods like jackets and trousers featuring heavily. Dominic's Way has also built strong relations among K-pop artists like
B.A.P.
,
Teen Top
and
ss501
.
CN Blue
's
Jung Shin
and SS501′s
Park Jung Min
have both walked the runway for the label.
Jaejoong wore several Dominic's Way pieces for
I
.
One of the teaser images released by
C-JeS
shows Jaejoong with a subtle rainbow of color in his perfectly tousled hair; a cropped leather jacket is worn over a black open-knit sweater. The item is a Collar Stud short rider jacket (
$1298
) from Dominic's Way.
Another piece of the brand's outerwear seen on Jaejoong was the Hand-Painted Leather jacket (
$1486
). This classic biker-style coat features various doodles in white paint on the black leather exterior.
The Spring/Summer 2013 collection of Dominic's Way was filled with graphic prints in a tattoo motif; lighter fabrics and colors were also prevalent. Jaejoong wore a white trench with black print from this collection.
In the opening scenes of the "Mine" MV, Jaejoong walks among bare trees as snowflakes fall around him. He can be seen in a heavily distressed black sweater embellished with haphazardly hung gunmetal chains. This same sweater was previously worn by SS501′s Park Jung Min, as part of the closing ensemble for the Fall 2012 Dominic's Way show at
Seoul Fashion Week
.
All of the close-up shots in the album jacket gave Jaejoong a chance to show off one of the coolest fashion accessories around —
Paperself
Eyelashes! This brand of false eyelashes are unique because they feature intricate designs cut into paper that have a dramatic effect when applied; Jaejoong sports the Peacock (
$19 $9
) and Small Peach Blossom (
$17
) styles.
Need more K-pop fashion identified? Just ask at the Request Line!
source;Kfashionista
[HQ PICS] 130118 Scans of Jaejoong's [I] Album Photobook
More PICS For Jaejoong's Solo Album I
Jaejoong's practicing with rock band for The mini-concert of 'Your, My and Mine'
Look at Jaejoongie super slim waist! ...so thin....very contrast with his boarder shoulder, seems like he has breast and full butt...even though it reveals his beautiful S line...but his fans worried so much about it...
they ask Jaejoongie
to
get some weight........but Jaejoongie said it's so hard for him to gain weight even though he ate so much...the only way he can get more weight is exercise...then do excersice , Jae!
Jaejoong has very silky smooth skin and it also bright white like glowing ...people who saw it closely said his skin looks like there is a light inside his body....ha ha ha...but it's true ...
I've seen him from 30cm, so close and actually his face is so beautiful unlike human, He has aka name Visual Shock since his face is so stunningly gorgeous like an angel ..very rare in the world.
Actually his face is far different with what you see in pic and video...the real Jaejoong is more beautiful than in video n pic.I don't get it why the camera can't capture it as the real......... I wish there is a camera which can move his face into pic n video as real Kim Jaejoong.......
6 Jaejoong in his 1st Solo Album Photobook 'I'
JYJ's Kim Jaejoong is a positive person. Instead of being afraid of changes and failures, he's filled with excitement for new challenges. His smile didn't fade throughout the interview.
At a cafe located in Apgujeong-dong, Seoul, he appeared with a 'Hello', bowing and greeting me. About the release of his first solo album, he said, "I feel so good because this is my first solo album. As it's my new attempt, I hope that people will listen to it with a tender mind."
Kim Jaejoong chose Rock for his first solo debut. The reason is simple. Rock music is what he always likes and is happy to sing.
"I chose it just because I like rock. Maybe I came to like it because I was so happy singing rock when I was little. 'I'm a rocker to the bone', I didn't make the album with that mind. However, I never thought that I'd receive songs from great seniors and work with them. I really feel honored."
"I didn't attempt a transformation to fit the existing rock to my style. Instead, I tried to digest authentic rock as the way it is. I think it was time for me to learn how to express emotions and vocalization when singing rock."
In order to make his first solo album that contains rock genre which he had been pursuing, Kim Jaejoong worked on the album in collaboration with Kim Bada, Sinawi's vocal.
Kim Jaejoong's choice was excellent. Husky yet gentle vocals of Kim Jaejoong in harmony with an intense rock sound in One Kiss made the song top real-time charts of Bugs, Cyworld Music shortly after released. Not only that, it also swept #1 in iTunes music charts of 9 countries such as Japan, Singapore, Taiwan, Thailand, Vietnam, etc., showing off the power of 'Rocker' Kim Jaejoong.
"It was really hard to record 'One Kiss'. It's way different from usual singing methods. Especially the treble, I had to learn the vocalization on stage. I felt like I was learning deugeum (T/N: vocal techniques in Pansori, a genre of Korean traditional music. Deugeum literally means "to acquire the vocal sound", and refers to the intensive training that singers have to go through to attain the perfect stage of the superior, advanced quality of vocalization techniques) Haha. It was like I came back to my rookie times."
"He (Kim Bada) respects me and thoroughly taught me about rock music. I think he tried to find a more suitable way to express rock for me. It's not that rock music colors me but rock music and I become one. He taught me that feeling."
In the meantime, Kim Jaejoong has participated in JYJ's albums and Kim Junsu's album as lyricist and composer. He wrote lyrics for this whole album 'I', which has proven once again his competence as a singer-songwriter.
Toward the praise of the reporters that 'the lyrics are really good' Kim Jaejoong burst into a hearty laughter. "I also think that I did write well indeed. I usually write lyrics very fast. I would take long to imagine and write but if I just barely write down, I can finish it real soon. I usually trace back in memory to write lyrics. In case of drama OST or such, because there is defined writing material or synopsis, I finish the lyrics more quickly."
Rather than care about the ranking of the album, Kim Jaejoong is more curious about the reaction and evaluation relating to his album. "If I go to the fansites, I often read the post where they write about my music. The most memorable was a post from an Indie band active in Hongdae, saying 'We hope that more singers would attempt rock music'. When a pop singer sings rock, I think rather than being hostile, they hope that rock music will be popularized through more attempts."
Kim Jaejoong's first solo album. At first glance, it might be viewed as another challenge to test his competence. However, if you look more deeply into Kim Jaejoong, you can easily surmise that 'I' is an album of the fans, by the fans and for the fans.
"I think, in the meantime, because I was focusing on drama and movie, they couldn't hear my music. Although there are people who like JYJ, there are also people who like the vocals of each member. The biggest reason of releasing this album was that I didn't want to let those people wait longer."
"I don't have exact plans yet but if I have a chance, I also want to greet overseas fans. There is not many songs in the album but I want to meet the fans and let them hear my songs directly."
Source: TV Daily via Nate
Translated by: Hannah @ PrinceJJ
KIM JAEJOONG: SEEKING SOLACE IN 'MINE'
Kim Jaejoong has finally found his footing.
Seeking solace in 'Mine' might seem like a rather awkward way to put it, it does feel like this is Jaejoong's escape – his relief and comfort all encompassed into his first proper foray into the industry alone
Despite him never being my favourite member of TVX5 or JYJ, I've always had a soft spot for Jaejoong. Always the one to lend his passionate, heart-wrenching vocals in songs in contrast to his members', Jaejoong has constantly struck me as the most effortless.
The 26-year-old might have to deal with messy parentage issues and be part of one of K-Pop's most talked-about group break-ups ever, but for all the trials and tribulations he's had to face, he's blessed with one of the most adept voices (in and out of K-pop) I've ever heard, with the ability to transcend ever-present adolescent uncertainty revolving around falsettos and provide flawless delivery in every note he belts. Besides that, he's also working his way up to be a pretty great songwriter and composer (he wrote six out of the ten songs on just '
In Heaven
' alone, including the same-titled beautiful ballad).
'
I
' is Jaejoong's first solo mini-album and right away we see that title track 'Mine' delves into the genre of J-rock with its sound and MV. With inspiration from visual kei bands, it shows off a grittier and completely new style in the industry that hasn't really been touched by idols yet. Yet, Jaejoong isn't just any idol, nor is he a stranger to J-rock, having performed many at
TVXQ
concerts – my favourite being '
Maze
' from the last installment of the Trick Project: '
Keyword/Maze
'. This shows that besides the various musical influences he has credited over the years (particularly R&B ones
Boyz II Men
and Japanese group
Gosperats
), Jaejoong has put in great thought into what he really hoped to explore with this solo venture, as well as what he really believes he's able to portray with stark intensity.
There's a lot of blatant symbolism in this MV but besides that, the settings and intricate details, right down to every piece of clothing or accessory Jaejoong wears, as well as the facial expressions that he portrays are entirely gripping and instantly draws you. The cinematography and costumes in 'Mine' all lean toward monochromatic colours and it feels almost like a gothic, fantasy-like tale. We first see Jaejoong in the woods, looking visibly lost though not at all afraid through the gripping, cold look in his eyes.
We move on to shots of an owl and a wild dog, completely different animals but both metaphorically chosen in 'Mine'. The owl has long been associated with both good and bad elements: wisdom, prophecy, a sense of foreboding and apprehension. An owl's appearance in the night time also signifies a time when one is helpless (Jaejoong in the woods) and could possibly run into imminent danger. Similarly, wild dogs have been linked to darkness, ferocity and hunting, and the one we see in the video is unrestrained, lashing out with a vengeance.
Especially powerful are the scenes that follow – of Jaejoong donning a Bane (The Dark Knight Rises) mask and literally being chained up and struggling to break free. The chorus here is raw and gripping, heightened with the thrashing rebelliousness of guitars and alternating between focused and unfocused shots of Jaejoong blaring his heart out to the lyrics. When he finally tears away from his chains, there's a triumphant moment as he lets his collar falls to the ground with a purposeful thud, and then we see him running head-first into a flock of crows flying toward him from the opposite direction.
The next part is probably my favourite part of the entire video, because there's this amazing piano entrance as Jaejoong fingers mimick the soft tinkering of keys. It's just very carefully added and perfectly thought out, making it an essential part of the video with how well it goes with the music at that very point in time.
What I really like visually about 'Mine' is how Jaejoong is too, shown as an animalistic and spiritual creature, and although the CGI-ed wings and snarling at the end could have come off as cheesy, Jaejoong's got so much heart and soul in him that you see the MV as something spectacular rather than gimmicky.
'Mine' is written by Kim Bada, the main vocalist of Korean rock band Art of Parties and Sinawi, and although he didn't know who Jaejoong was when he wrote 'Mine' and 'One Kiss' (another track off 'I'), he stressed that Jaejoong was exceptionally good in taking in the genre of rock music after listening to the way he made the songs his own.
I don't particularly listen to a lot of J-rock or rock songs in general, but what I do know is that 'Mine' isn't too hard to digest for someone completely new to the genre. The song has a good build-up right from the start, first executing a strained, almost painful vibe before it explodes into a glorious climax of breaking vocals. Also good are the gentler insets after the first chorus and at the end, which add a touch of fragility and gentleness to the otherwise angst-filled track. Like I've mentioned previously, Jaejoong has a voice and quality that goes beyond the regular idol, and he really impresses here.
I'd say that 'Mine' is absolutely solid in its own right and not only brings Jaejoong new-found respect (and possibly a whole new league of fans), it's also fantastic that he's able to finally do something he loves without caring about whether or not it appeals to the mass market. In an entertainment monopoly saturated with overly-used concepts and manufactured personalities, it's refreshing to see Jaejoong settle right into his own skin. The man's had to handle nasty ups and downs in the past few years, but we're glad that every focus on him right now will solely be on his music. Well done!
source; dinoseoul
Accessories 'I' Album was sponsored by Marilyn Hitchcock
PrinceJJ
In Interview of Promo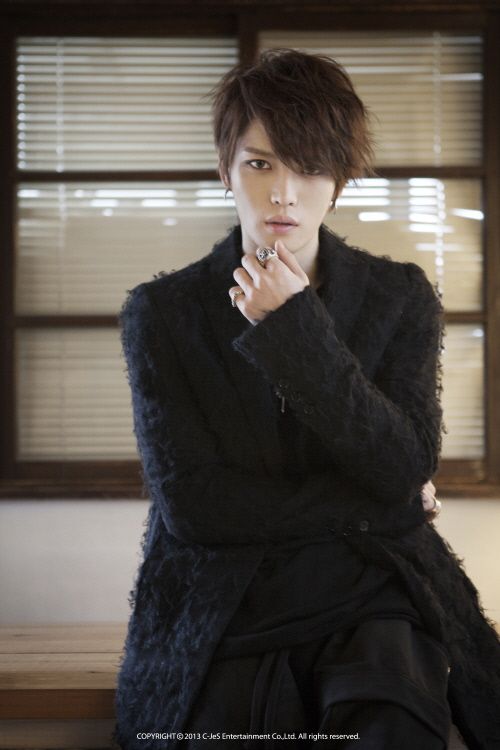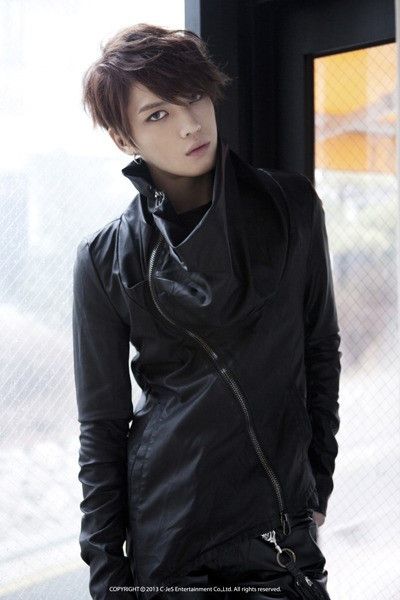 CJeS Entertainment via Nate
JAEJOONG KIM – I//
Label: C-Jes Entertainment
Release Date: 17 January 2013
Tracklisting
One Kiss
Mine [MV]
내안 가득히 (There's Only You)
나만의 위로 (Healing for Myself)
All Alone
I'll start by saying this: Kim Jaejoong's voice is a masterpiece, a complex portrayal of raw emotion that twists and turns, navigating listeners through something completely unlike the whimpering mewls of teen heartthrobs. What most remember of his idol days seems to melt into a hazy oblivion once he takes his first steps into decidedly more adult fare. Those new to Kim Jaejoong will at first be a bit skeptical given his appearance, more flower boy than soul rocker. However, once he opens his voice, there's a moment of tentative recognition, then shock as they come to the realization that, yes, the man's voice is powerful.
Though comparatively smoother than veterans of the genre, his almost dove-like coo wraps around grit and fire to produce a complicated contradiction of sound: at once light and soft, and then rough and textured as if run through with the jagged shards of a broken heart.
Tackling a genre so blatantly disparate from anything he's done before is a gamble. He would either be lauded for his audacity or condemned for treading on territory reserved for those with more rugged musical pasts. However, Jaejoong takes the gamble hands first. Having written and co-produced every song on the EP, he was not afraid to delve deeper into himself to give listeners an unfettered view of the humanity underneath the public persona. Such an unbridled unveiling of self runs the risk of becoming self-indulgent, even maudlin. However, the sincerity in the vocal brings the lyrics to a shimmering newness that's a testament to his absolute need to purge whatever lay trapped in his soul.
Of course, the album would be nothing if not for the brilliant co-production and composition of Kim Bada, an artist in the rock genre well-renowned for his emotive lyrics and layered compositions. Jaejoong had the foresight to realize he needed to enlist the council of someone who built his career on writing music free of inhibitions, someone who could find the core of his emotions and bring them out in stark fashion.
With Bada's artistry, song Mine roars and claws free of any sort of restraints that may have kept Jaejoong from attempting to make music as raw as this. The track is classic rock music, blaring and open. Jaejoong weaves his vocals through the composition as if it were the only means to tell a story he's been waiting to tell. It's also the album's most complex composition, complete with wailing guitars, throaty drum backing, and lilting piano chords. However, lead single One Kiss shows us his range. He's renowned for being all emotion, but One Kiss lets us see that he's also got a rich textural tone to his voice, a robustness that may get lost in its softness.
He errs on the side of classic balladry with the two middle tracks, fare not unfamiliar to Jaejoong, thus revealing nothing new to us. All Alone, for its part, is a gorgeous song, markedly a bit more mature than the previous two, closing the album on a ringing memento whose notes linger and sting the ears long after the album has closed.
Kim Jaejoong's debut mini-album is a beautiful look into the man's heart and unveiling of his vocal range when unbound by a genre that tends to be very restricting. It's at moments unspectacular, at others brilliant to the point of bursting through its digital mapping. However, no matter if some of the songs are vintage or his more fearless side, I, as the title suggests, is completely and wholly Kim Jaejoong.
Standout Tracks: One Kiss, Mine, All Alone
Rating:
source: YAM Magazine
From
JYJ
's emotional, delicate, and beloved vocalist
Kim Jaejoong
's first solo mini-album "I".
Co-produced by Kim Jaejoong, recognized as a singer-songwriter who worked on JYJ's album and songs from his dramas and movies.
Kim Jaejoong wants to work on a rock genre album with collaboration from
Kim Bada
, vocalist of
Sinawe
and only Kim Jaejoong's explosive vocals can give justice to the songs. After 10 years since his debut, the lyrics of all the songs directly captured and expressed all the emotions he felt while working as a singer and actor. It is also an honest confession about his life through music. To describe this album, it is simply a "piece of work".
01 One Kiss (Lyrics – Kim Jaejoong / composer – Kim Bada / arranger – Sean)
"One Kiss" makes use of a full synthesizer, but the song combined with Kim Jaejoong's husky treble voice, contains the base of rock elements such as hard playing of the drums and crunchy guitar sounds(T/N it is really a rock term). Despite its intense sound, the lyrics are melancholic and is all about remembering the past, creating a deep impression.
02 Mine (lyricist – Kim Jaejoong / Composition – Kim Bada, Sean / Arrangement – Kim Bada, Sean)
"Mine" is the the title track of the mini-album, it's a song that was arranged by Kim Bada that showcases Kim Jaejoong's outstanding singing abilities with his explosive vocals and exceptional interpretation of the song. The magnificent and crystal texture of the guitars in the middle of the track makes the listeners feel like one is racing through a tunnel.
03 내안 가득히 (lyricist – Jeon Haeseong / composer – Jeon Haeseong / arranger – PJ, Kim JinHoon)
It is a modern rock ballad that starts with Kim Jaejoong's melodic voice and features his delicate emotions. The gentle melody and the lyrics fits the story about love, friendship, and relationship and about someone who is about to confess his love.
04 나만의 위로 (Healing for myself) (lyrics Kim Jaejoong / composer – Kim Jaejoong / arranger – Kwon Binji)
Sweet melody sad lyrics containing Kim Jaejoong's yearning for a lover who has gone away. The gentle melody increasingly changes to a strong melody during the emotional part of the lyrics. In the second half of the song, Kim Jaejoong's rock vocals is truly impressive.
05 All Alone (Lyrics – Kim Jaejoong / composer – Kim Jaejoong, Kim Sejin / arranger – Kim Sejin)
"All Alone"'s outstanding piano melody evokes a lyrical atmosphere with Kim Jaejoong's emotional vocals all throughout the song. The lyrics is about pulling a beautiful but sad memory stored at the back of your mind. If you listen with your eyes close, you will see a scene of the saddest but most beautiful memory.
T/N: I left the Korean titles as I'm not sure of the English translation for the songs.
Jaejoong was lyricist and/or composer in 4/5 songs
credit; omonatheydidnt
related article of Kim Jaejoong: